Joshua Jacobo, founder of New Masters Academy who comes to his mission, craft, and career, in a circuitous manner befitting a hero's journey, for the first time is sharing his story in this interview.
"My mother taught my brother and me how to draw at an early age. She would decorate our rooms with murals of dinosaurs, jungles, circuses, or whatever our particular fascination was at the time. She showed us how drawing could be used to connect our imaginations with the real world. We would invent characters in pencil or crayon then laminate the drawings with pins acting as joint pivots to create flat play figures, or pose our toys as 3D models to design dramatic action or adventure scenes."
At twenty, while studying at an L.A. university, Jacobo learned that his mother and stepfather had been killed in a car accident, catapulting his life in unexpected ways.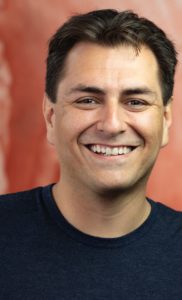 "My inner narrative shifted from an almost entirely selfish, coming-of-age for a creative youth story to somewhat of a disaster where survival, emotional trauma, and providing for my younger brother and me was my new reality."
Within mere weeks of the accident, Jacobo started working to pay rent and legal bills. He put any and all of his skills towards earning money, skills, and experience that would later prove invaluable to his future endeavors. He worked as a designer, copywriter, salesperson, software developer, videographer, photographer, and anything else he could to try to make ends meet.
He moonlighted as a business consultant, helping small companies convert their models to an increasingly online world while working in independent political media, 'a rewarding but exhausting and sometimes vicious field.'
After a decade of living a very serious, responsible adult life, the feeling of panic and survival started to dissipate, replaced with an increasing call to create, to engage in the mysterious activity of observing, extracting, and recording the relationship between truth and beauty.
It was time to study art full-time if he was serious about pursuing this for a lifetime.
"I had fantasies about creating masterpieces that rivaled those of the Old Masters. I felt I had aptitude and talent and only needed the right training."
The search to learn how to paint and draw like the master draftsmen of the Renaissance, however, proved more difficult than he imagined. Jacobo's quest became the impetus that set him on his path.
After spending a year determined to get the very best art education, researching university art programs, specialty schools, and ateliers around the world to find the perfect fit, he was shocked to discover that most of the fundamentals of the craft of drawing, painting, and sculpture were no longer being taught.
"Something had happened to art training, and art itself and I struggled to piece together the enormity of this disaster."
"I learned how the 20th Century's radical culture shifts had dramatically altered the visual arts. In most of the West, the figure was proclaimed to be dead. In some countries painting itself was considered irrelevant. The craft of making art had somehow been separated from this ineffable notion 'Art', which was highly subjective, infinitely inscrutable, and quite lucrative for a select few. Late to the party, I didn't realize that artists had been "liberated" from the authoritarian, nationalistic, bourgeois, power structures which had apparently so oppressed it.
"The newly liberated artists of the future dispensed with restrictions like drawing fundamentals, humility, and a collective sense of artistic tradition in favor of individual expression, originality of style, and above all the edgy concept. Beauty had become kitsch and mastery of craft irrelevant."
Jacobo, accepting the calling, pursued a path of self-instruction rather than enrolling in a deficient or misguided art program. He laid out a self-imposed training regimen of master copies, anatomical study, and drawing from imagination, a practice he still does daily and one which he thinks is vital.
He purchased a four-volume set of beautiful reproductions of the corpus of Michelangelo's drawings and began the exercise given to apprentices for hundreds of years, spending 3 years painstakingly copying hundreds of the handiwork of the master.
Jacobo concedes that there were still fields in the arts where traditional skills were relevant, such as entertainment arts and restoration as well as fine artists who had bucked the trend, refusing to abandon traditional craft and stubbornly passing their knowledge wherever possible.
There is also a recent trend towards academic representational art being taught in ateliers in the US and Europe.
Of these few artists that Jacobo found who were versed in the craft of drawing and painting, one stood out to him, from all others, Glenn Vilppu.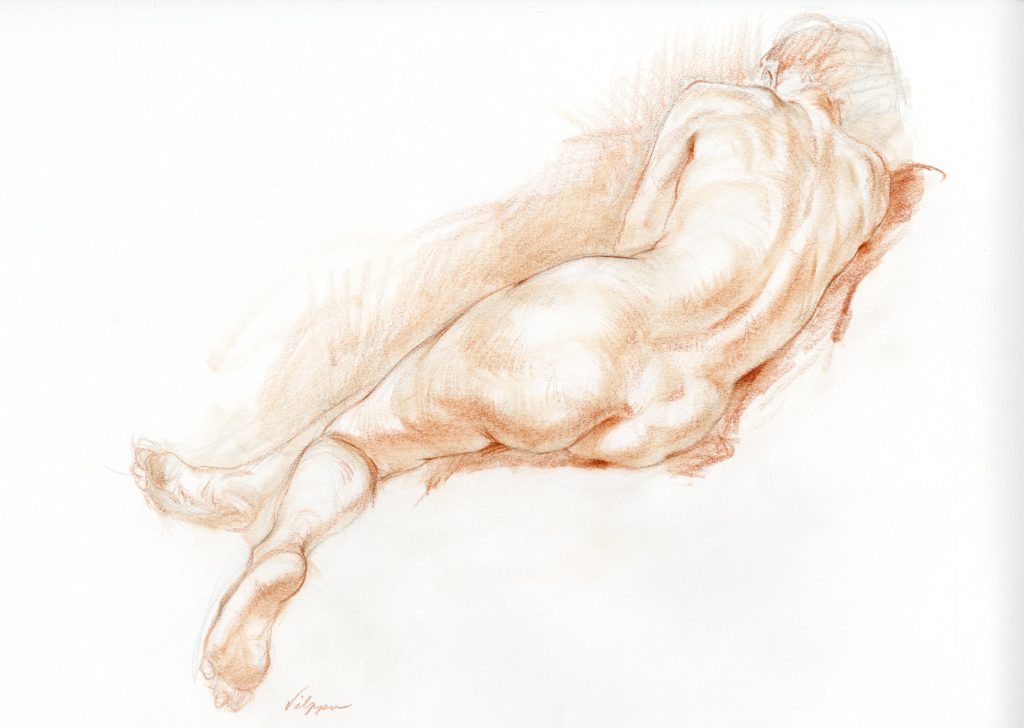 "Learning about Glenn from another artist, I was astounded when I first saw his drawings. Here was a living person who could really draw like the Old Masters."
Vilppu, then in his seventies, was a drawing teacher who had studied with some of the best draftspeople of this generation, had taught for nearly fifty years in schools, and later worked in the animation industry. He traveled the world giving workshops and selling a wide variety of self-published books and videos on his technique: an approach to drawing with an emphasis on gesture, the visual movement that ties together nature, design, and inventiveness.
"I had no choice but to hunt him down and demand that he teach me." Jacobo jokes, "Perhaps having watched too many kung-fu movies as a kid. But it worked."
Jacobo offered to help Vilppu and his wife Eleanor with their art business in exchange for the opportunity to study with Glenn one-on-one.
A win-win deal was struck, the hero found his mentor, and what transpired became a mutually beneficial relationship, both professionally and personally.
Vilppu confirmed many of Jacobo's suspicions about the state of art education and the craft in general.
They agreed that what was needed was a return to traditional foundational training and Jacobo had the experience and foresight to take his business online to reach the maximum number of art students around the world.
The new business for the family called Vilppu Academy was winning awards and getting a great buzz from the art community, so Jacobo decided to reach much further. Rather than selling individual recorded classes, what if there was an online art school that functioned like a modern subscription site such as Netflix.
The goal was to democratize the craft of making art by creating online or in-person training that was better than anything on the market and to charge an incredibly low amount for everything.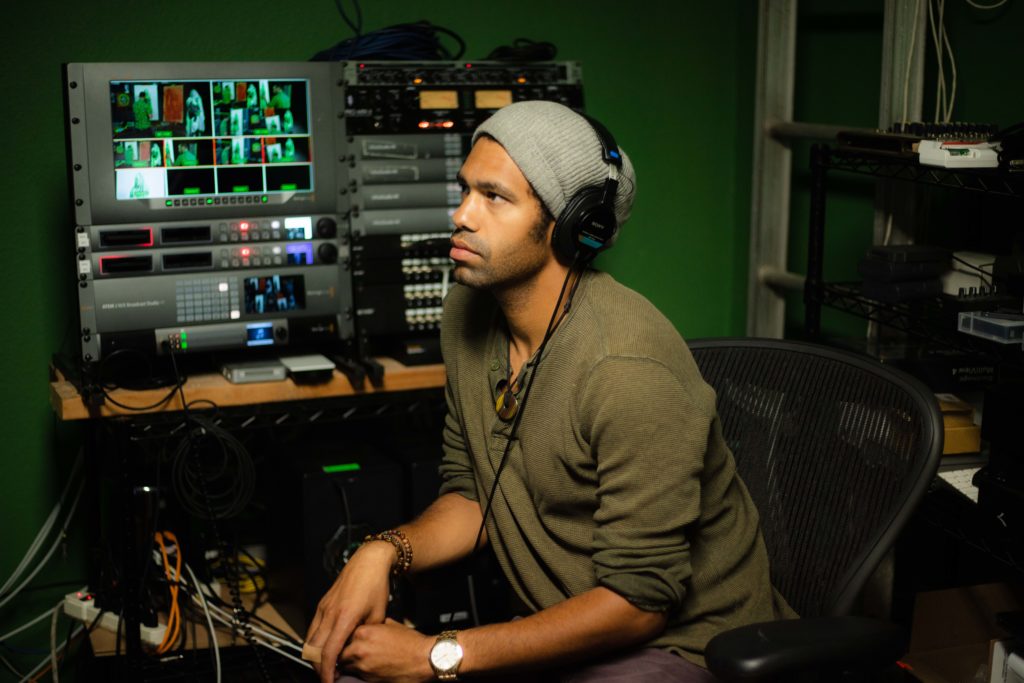 Within a few months, Jacobo had brought on other famous artists like painter Steve Huston, Disney art director Bill Perkins, art book publishing titan Juliette Aristides, and renowned western monument sculptor Ed Fraughton.
"For the better part of a decade, I was involved in nonprofit independent political media on the left. We opposed the Bush wars and the use of torture and violation of human rights. We pointed to flaws in our economic and political system which allowed wealthy elites to bend government to their will at the expense of the vast majority of us and of the planet. We were intimately involved with the Occupy Movement which was designed to draw attention to income inequality and political corruption.
"From the first Occupy action at Zuccotti Park to Black Lives Matter protests in Philadelphia, to standing with the Lakota Sioux at Standing Rock in freezing temperatures with a broken leg, my career in journalism and political activism has been at times somewhat grim and even violent. Sometimes it seemed to me as if the world was changing for the better, and other times it seems that the political setbacks we faced were unending.
"My decision to pursue my love for art as a full-time career was the best one I ever made."
"I often dream about art and I wake up the next morning thinking about it. My life has steadily improved each year that I have made the decision. I am healthier, happier, and I have found the woman of my dreams in my wife, Johanna Schwaiger, all as a result of taking the plunge and betting on the risky world of art and art education.
"As we cultivate our own sense of humanity, beauty, and community, we can make our lives, from the architecture, decoration, and planning of our spaces, to what we see on our screens and in our homes. Every aspect of our lives can be refined with art and with an increasing harmony with nature."
As society moves towards the automation of mechanical and increasingly cognitive jobs, Jacobo believes we must discover new ways to structure our economies and place a higher value on the creative work of other humans.
"It's a connecting of minds that can stretch across thousands of years and yet feel as intimate as a conversation. What I love most about art is its ability to connect us with our intrinsic nobility and love for each other and for nature. I love how great art can inspire, challenge, and comfort us."
"I believe art can elevate us", acknowledges Jacobo, "our artistic creations represent the best of our natures."
---
---
You might also like
---